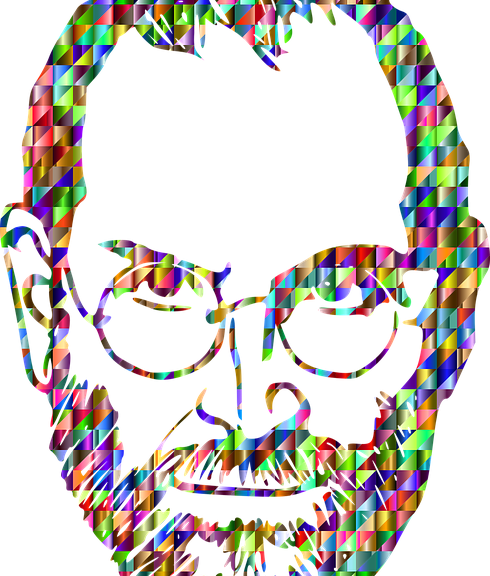 STEVE JOBS BY WALTER ISSACSON
STEVE JOBS BY WALTER ISSACSON
Walter Isaacson only agreed to write Steve Jobs' biography when he learned that Jobs was already dying of cancer.
The first time the innovator mentioned his biography to the writer, Isaacson had just successfully released his book on Benjamin Franklin and was working on another about Albert Einstein. Isaacson declined saying that it's too early as Jobs was still on the peak of his career.
It was Jobs' wife Laurene Powell who finally changed Isaacson's mind and informed him of the Apple CEO's sickness.
Childhood
Steve Jobs knew at an early age that he was adopted. His father Paul Jobs and mother Clara Hagopian never hid it from him. They took care of Steve right after his birth. Colleagues have remarked that this made Steve independent and strong of character. His first hero is his father who was a car mechanic.
Steve's parents always told him that he is special. As a child, he discovered his intelligence in electronics though he was a delinquent in school. Classes often bore him and he would often engage in pranks with the help of his talents. This continued on from grade school to college.
Wozniak
Steve Wozniak met Steve Jobs through a common friend in Homestead High. Both Steves showed talents in electronics and machines even as children. While Jobs was influenced by his father to be a businessman, Woz' dad despised marketing and encouraged him to excel on engineering.
Apple I
Wozniak and Jobs had been into various small business ventures here and there. But as Wozniak was just willing to give away his designs, Jobs wanted to have his own unique independent product and make good money out of it.
At the time, Woz was working for HP. He tried to pitch his circuit board there first. After being rejected for rawness, Woz committed his designs 100% to Apple. Jobs thought that their team-up worked because they are opposites. While Woz is very talented but socially awkward, Jobs is good with people. He is known to communicate to anyone and manipulate them to get what he wants.
Their first client is a computer store owner named Paul Terell. He ordered 50 circuit boards for $500 per piece. After convincing the manager of Cramer Electronics to lend them $25,000, Jobs together with Woz, his sister Patty, ex-girlfriend Elizabeth Holmes and friend Daniel Kottke, began to work. Thus, the birth of Apple happened in the garage of the Jobs residence in Los Altos.
Lisa
For 5 years, Jobs was in an on and off relationship with Chrisann Brennan. With the successful run of Apple, Jobs moved out of his parents' house and rented a $600 ranch house in Cupertino. Soon, Brennan reunited with Jobs, moved in and got pregnant. They were both 23 years old.
Jobs was detached though and focused with the company. He and Brennan would often argue. Marriage was never discussed and Jobs denied that he was the father. Nevertheless, with the help of friends, Brennan gave birth to Lisa Nicole in Oregon on May 17, 1978.
Mother and child moved to a tiny home in Menlo Park and lived on welfare. When Lisa was one year old, Jobs underwent the fairly new DNA testing and resulted 94.41%. The California court ordered him to give monthly child supportand sign admission of his paternity. Jobs was granted visitation rights though he didn't use them.
1981
From selling 2,500 units in 1977, Apple's sales rose to 210,000 by 1981. However, Jobs knew that this success wouldn't last forever. He thought of a new product which is much better than Apple II. He also wanted a design that he could completely call his own.
Though he denied the connection at the time, Jobs named the new computer Lisa. The engineers had to come up with an acronym to go with his daughter's name. Lisa stands for Local Integrated Systems Architecture.
In exchange for 100,000 shares in Apple, Xerox PARC agreed to share its latest technology to Jobs and his programmers. After several visits, the Apple engineers were able to pirate the mouse design and interface of Xerox computers. The Lisa was released with a better than ever graphics and smooth-scrolling mouse features.
Macintosh
Jobs was actually kicked out of the Lisa project because of his disruptive behaviour. Meanwhile, there was an Apple engineer by the name of Jef Raskin who was developing a cheap computer that any family can afford. Raskin called his project Macintosh after his favourite kind of apple.
However, since he lost Lisa, Jobs had his eye on Raskin's project. The vision of Raskin was to make a compact computer with screen and keyboard at only $1,000 each. Jobs told him to just create the Macintosh and not think of the cost.
Eventually, Raskin lost Macintosh. Jobs was able to find an engineer to make the device work on a more expensive but smarter microprocessor. Mac came out with even better mouse and graphic interface than Lisa.
After countless proposals and revisions, Jobs made the whole design team sign on a piece of paper. He made all 50 signatures engraved inside every single Macintosh. They celebrated the completed design of Mac with a toast.
Resignation
When Jobs lost the Lisa project, he was also made a non-executive member of the board. Though he owns 11% of Apple shares, he lost most of his power. In 1985, he expressed his desire to build a new company to the president John Scully. Jobs said it would be a separate company from Apple but would not become a competitor.
Jobs named his new company NeXT. He asked Scully if he could recruit 5 low-level employees with him to transfer to NeXT. But when Scully got the names, he became upset with Jobs as they were definitely not low-level. The board membersthought that Jobs is being disloyal to the company and breaching his duty as chairman. They were prepared to declare war against Jobs.
News about Jobs being kicked out as Chairman spread on media. He already offered to resign when he expressed his intentions with NeXT. Finally, he mailed his resignation letter to the executive Mike Markkula.
Part of Jobs' resignation letter read,
"Subsequently the Company appears to be adopting a hostile posture toward me and the new venture…As you know, the company's recent reorganization left me with no work to do and no access even to regular management reports. I am 30 but want still to contribute and achieve."
Mona and Lisa
Since the 1980s, Jobs secretly hired detectives to find his biological parents. Eventually, he was able to track his mother Joanne Schieble in Los Angeles. Joanne got separated with his biological father AbdulfattahJandali who is Syrian. She never had a successful marriage but she told Jobs that he has a half-sister named Mona Simpsons.
Jobs met Mona in New York. He was thrilled to find out that she is a novelist. He became very close with Mona as they are both passionate about art. Jobs went to support Mona in her book release. They adored each other and became very good friends.
Meanwhile, Chrisann Brennan and Lisa lived in a house which Jobs bought for them. He started to visit them occasionally when Lisa was three. Jobs said, "I didn't want to be a father, so I wasn't." When Lisa was eight, Jobs' visits became more frequent. He found out that Lisa was very smart at school and also very artistic. She is also high-spirited and looked a bit like him.
One day, Jobs decided to bring Lisa to Apple to the surprise of his colleagues. Sometimes, he would pick her up and there was one time that he brought Lisa to a business trip in Tokyo. However, there are still times that Jobs is very cold. Over the years, their father-daughter relationship was a roller-coaster.
iMac and Apple Stores
In 1998, Jobs reinvented Macintosh with the iMac. Again, it was an all-in-one computer with monitor and keyboard. iMac was targeted for homes and ready to use. Jobs took product launching into a new kind of theatre with Macintosh. He did it again for iMac. With the price of $1,299, iMac became the fastest selling product of Apple ever.
There was no single tech store in the mall or any main streets in 1999. Jobs thought that "you can't win on innovation unless you have a way to communicate with the customers." He came up with the idea of Apple retail stores. A colleague asked him one day, "Is Apple as big of a brand as Gap?" Jobs answered Apple is even bigger.
The first Apple store ever was opened in Virginia on May 2001. With white counters and wood floors, it is a venue for all Apple products. By 2004, Apple stores have set a record on retail industry with $1.2 billion. The Fifth Avenue store opened in Manhattan year 2006. It has Jobs' trademark of minimalist design from glass, cube to staircase. By 2011, there are already 326 Apple stores all over the world.
Cancer
It was October 2003 when Steve Jobs found out that he has cancer. He just wanted to get his CAT scans because of his kidney stone history. However, his doctors found out that he has a tumor in his pancreas. After doing a biopsy on Jobs, they found out that the tumor can be removed to avoid spread.
Jobs, however, was very intent on not having the surgery. Instead, he continued on his vegan diet and underwent acupuncture. Though his wife and friends were repeatedly convincing him, it took him 9 months to realize that he really needed the operation.
In July 2004, Jobs took another CAT scan and found out that the tumor grew. He then went on with the surgery to have part of his pancreas removed. Though he wanted to come back to work by September, unfortunately, the cancer spread. Jobs began to have his chemotherapy.
When he was invited in Stanford for its commencement exercises, Jobs announced that his cancer was cured. In 2005, his wife held a surprise birthday party for him. He celebrated his 50th birthday with his family, close friends and colleagues.
Cancer Recurs
Jobs cancer got worse in 2008. Aside from the pain he is enduring, he is being burdened by his eating disorders. Jobs has been doing extreme diets and fasts since he was a teenager. Even as he battles cancer, he was very picky with what he eats. Jobs lost 40 pounds that year.
When he presented iPhone 3G, the media was more interested in his weight lost. The price of Apple stock decreased significantly within a month. Jobs finally agreed to be on medical leave by January 2009. Two months after, he underwent liver transplant. His doctors got worried though as they saw tumors in his liver.
Meanwhile, arrangements have been made in Apple's management during Jobs' leave. The stock price eventually recovered. On a conference call, operations manager Tim Cook said, "We believe that we are on the face of the earth to make great products, and that's not changing. We are constantly focusing on innovating…regardless of who is in what job, those values are so embedded in this company that Apple will do extremely well."
Jobs remained relentless though. He still has fight in him. By 2010, he recovered and went back to Apple. Cancer did not stop him from developing iPad, iPad 2 and iCloud.
Conclusion
Steve Jobs can be intense. He saw his colleagues either as heroes or shitheads. As for competitors, either they completely suck or did absolutely perfect. He was also brutally honest. To his employees, Jobs always says what they need to hear without filter.
Jobs can be controlling. He wanted Mac operating system to be exclusive to Apple. Though he lost profit to Microsoft, Jobs was more focused on improving the products. He wants control from product design to customer experience. He always aims for perfection.
Instead of giving consumers what they want, Jobs predicted what the market needs before everyone else. He led Apple to innovation. As the company motto goes, "Think different." Steve Jobs may be crazy at times but he made himself one of the best innovators of the digital age.
Jobs thought that the reason companies decline is because after coming up with a great product, they become more focused on profit. He said real companies last because they stand for something. That's what he wants for Apple.
For three decades, Jobs kept moving. He created all-in-one and ready to use personal computers with Apple II and Macintosh. He transformed the art of animation with Pixar. iTunes and iPod saved the music industry from piracy. The iPhone and iPad rolled business and entertainment in one portable device. The iCloud made possible data syncing.
The world may have lost Steve Jobs but his legacy remains. Apple and Pixar continue to combine technology and art. One of the lessons that can be learned from Jobs' biography is to keep moving, keep improving and good returns will come back naturally.